Creating a Guest Room Oasis
Your Guests Won't Want to Check Out…
We love to have overnight guests, whether it's family or friends that come for a night, a weekend or an extended stay.  It's fun to share your home and your family's routines with loved ones.  We want our guests to feel welcome, relaxed and most importantly want to come back.  If you're expecting guests over the holidays or anytime throughout the year, here is my quick checklist to make your spare room feel more like home.
Welcome Note
Start the visit with a small note welcoming your guests to your home.  Let them know you're happy to have them and have been looking forward to their stay.  Include your wifi password, garage code, instructions for the coffee pot and remote.  Do you have the fridge stocked or breakfast plans?  Let them know of any plans, meals or events your have scheduled during their stay.
Fresh Flowers
There is just something about walking into a room and seeing a bouquet of fresh cut flowers that makes you feel cheery.  It takes minimal effort and expense to deliver big results.  My 'go to' stop for fresh flowers is Trader Joe's. Hands down, you will find something in their flower section that puts a smile on your face and won't bust your budget.  Choose one of their prearranged bouquets or create your own for less than $10.  This is just a small example of the flowers available seasonally at our local Trader Joe's.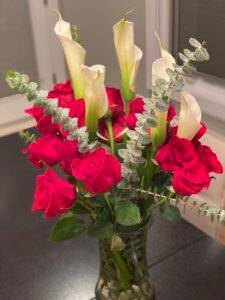 Clean Out Closets
In our house, we tend to use spare closets to store winter coats, wrapping paper, extra décor, etc.  But when guests come, it gives me the opportunity to clean them out!  Opening a closet to find it crammed with stuff gives off a 'we weren't expecting you' vibe.  Take the time to consolidate even just a portion of your items to offer space and hangers for your guests.  It's a great spot to store luggage out of the way. A small table or bench would also be a welcome addition if your guests will be using their open luggage during their stay.
Fresh Linens & Blankets
This is a deal breaker for me.  Offering your guests stale smelling or worse, used sheets to rest their heads on sends the wrong message.   Wash your bedding 1 to 2 days before guests arrive and take the time to fold those hotel corners.  Place a few extra blankets on the bed or in the closet as well.  If guests are chilled, they can always add layers to get their best sleep.  It's a small touch that goes a long way.
Bedside Table
Think about what you have on your bedside table and recreate that for your guests.  A reading lamp, bottled waters, their favorite snack or treat, charging cord, a good book or magazine and an alarm clock would be a great place to start.  If your guests have down time in their room before you wake or in our case, your kiddos go in to wake them up, they'll appreciate the amenities.
Stock the Bathroom
If your guests will have access to their own bathroom, it's important to stock it with items they may have forgotten to pack. A small basket of travel size toothpaste, toothbrushes, shampoo, conditioner, lotion, and a disposable razor would be a a welcome sight.  A small first aid kit with band aids and pain reliever is also a nice touch.  Fresh towels and wash cloths should also be easily accessible.
Questions on Home Building or Remodeling?