Expect the Best for Your K&V Custom Home Building Project
After developing a plan to build your Des Moines, Iowa custom home, you can expect to be kept in the loop throughout every phase of the building process. Colin and Dean handle all of the communication on their homes.  You won't be handed off to a construction foreman or crew manager. Building a home can be overwhelming, but K&V works to schedule walkthroughs with you, deliver on our fixed-cost guarantee, and keep you involved and informed from beginning to end.
Know What to Expect When Building Your Home
The process of home building can induce anxiety and bring up many concerns that are important to you as a homeowner. When partnering with K&V Homes, you can expect thorough expertise, transparent communication, integrity, and no surprise costs that will send you over budget. The details of our home building process are as follows:
Staking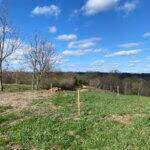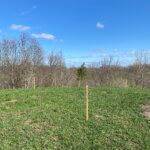 In order to lay out the footprint of your house and garage, a partnering engineering company will lay lath/stakes at each corner of the house where two walls will join.
Excavation & Foundation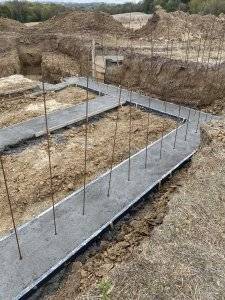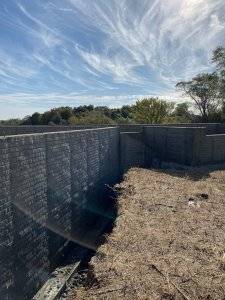 To create a solid foundation, the concrete foundation company will set up and pour concrete footings to support your basement and garage walls. After footings are installed and set, the walls of your foundation are poured.
Plumbing/Groundworks
A partnering plumbing company installs the piping below the basement floor and connects the pipes to domestic water, sanitary drains, and storm sewer drains at the street.
Backfill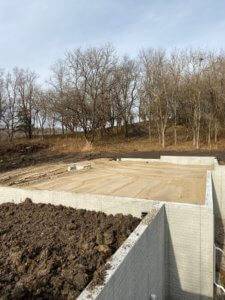 After five to seven days of letting the concrete cure, the excavation company returns to fill dirt alongside the foundation walls. Sand is placed inside the garage in preparation for the garage floor, and gravel is placed on the basement floor to prepare for the basement concrete pour.
Concrete Flatwork Phase One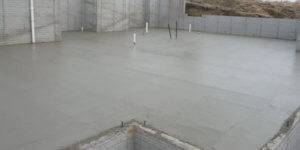 A trusted concrete flatwork company pours the concrete on the basement floor, garage floor, and sometimes the front porch.
Framing Carpentry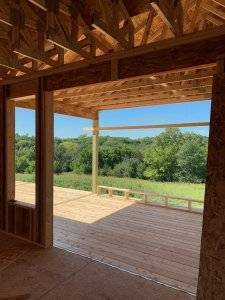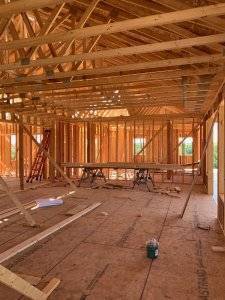 Framing carpenters arrive and start building the bones of your new home. Framing carpentry includes the installation of floor joists, walls, roof trusses, roof sheathing, windows, exterior doors, and siding. This may also include the construction of a rear deck.
Roofing
After your new roof is completely sheathed, roofing contractors arrive to install roofing felt, and soon after will complete the installation of roof shingles.
Mechanicals Rough-In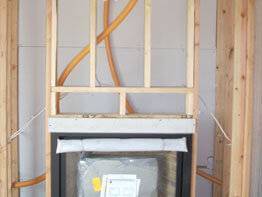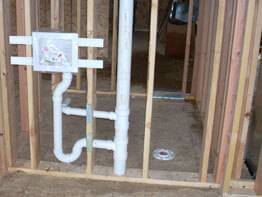 Any heating and cooling, plumbing, electrical, central vac, or security components that will be inside your walls are installed by their respective experts.
Concrete Flatwork Phase Two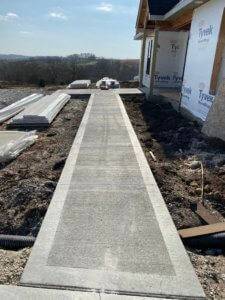 The concrete flatwork company returns to your lot in order to pour your driveway, sidewalk, front porch, and rear patio.
Exterior Masonry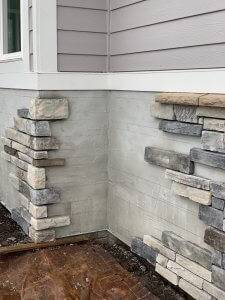 If included in your design, stonemasons will apply cultured stone to the exterior of your home.
Exterior Painting
Your chosen exterior color will be painted onto your home's exterior at this point. This may alternatively take place when the interior of the house is painted.
Insulation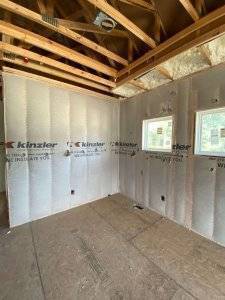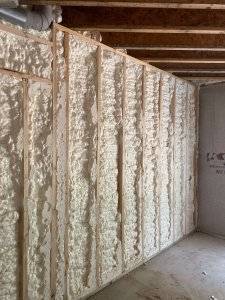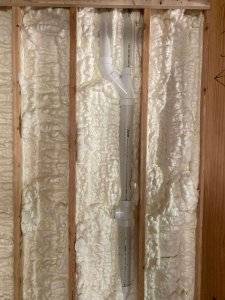 An insulation company arrives to install insulation and insulation products in the house and garage. The company will later return after the sheetrock installation to complete the insulation of your attic and garage.
Sheetrock/Drywall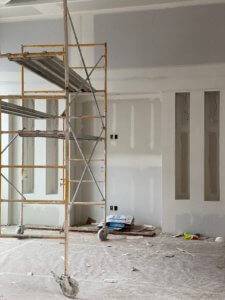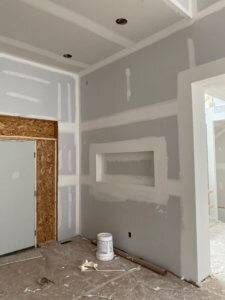 The partnering drywall company installs sheetrock on the ceilings and walls of your home, drywall compound is applied to the nails, screws, and seams, and your preferred texture is applied to finish out your walls.
Garage Door Installation
The garage door company completes the installation of your garage door and later returns to install openers and keypad.
Hardwood Flooring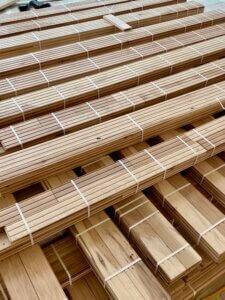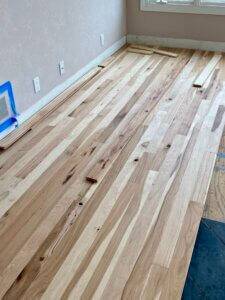 If it is in your design plan, hardwood flooring is installed at this time by a trusted K&V Homes partner.
Partial Trim Carpentry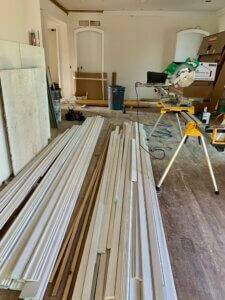 Cabinetry, interior doors, baseboard, casing, crown molding, stair treads, stair railings, and any custom built-ins are installed by a professional carpenter.
Interior Painting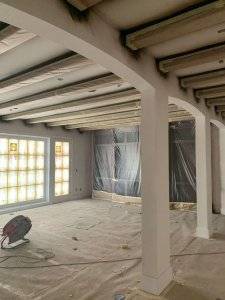 Your painting contractor applies stain and/or paint to all woodwork, ceilings, and walls.
Interior Masonry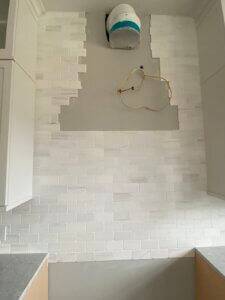 If applicable to your design, the stonemasons return to install stone on the interiors of your home.
Gutter Installation
A gutter company completes installation of gutters and downspouts.
Countertop Installation
Countertops are installed throughout your home in the kitchen, bathrooms, and laundry room.
Mechanicals Trim Out & Installation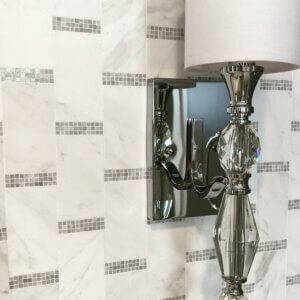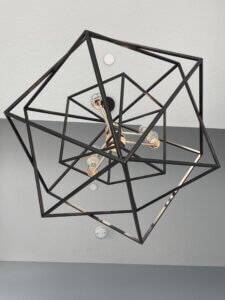 The permanent thermostat is installed along with light fixtures, outlets, and light switches. Permanent electric and gas lines are connected to the house.
Flooring Completion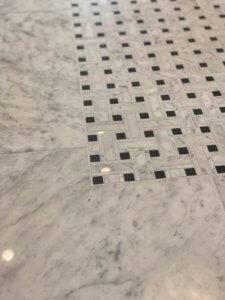 Installers complete the outfitting of your flooring with chosen tile and carpeting.
Shelving Installation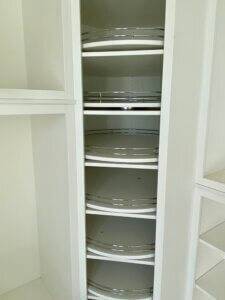 Shelving units are installed in closets, pantry and mudroom.
Mechanicals Trim Out Completion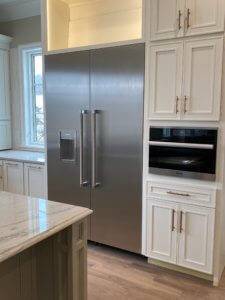 Appliances, plumbing fixtures, central vac ports, vac pan, and fireplace are all installed, set up, and tested.
Mirrors & Shower Doors
Mirrors and glass shower doors (if applicable) are fitted and installed in the bathrooms.
Trim Carpentry Completion
Your trim carpentry team returns and installs base shoe (quarter round wood trim) in all of the hard-surface rooms in your home. Installation of doors and bathroom hardware are also completed.
Final Grading & Lot Finishing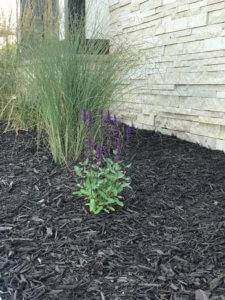 A landscaping company puts the finishing touches on your lot with the final grading, sod installation, and any custom irrigation system or landscaping you may need.
Thorough Cleaning & Final Walk-Through
K&V sends a professional cleaning company to wash all windows and exterior doors, and complete a thorough house cleaning. After this, a final walk-through is performed to familiarize you with the workings of your home.
Don't Settle for Another Home Builder.
Maximize Your Home Building Process with K&V.