See What our Customers Have to Say
K&V Homes is what is on their trucks, but to us it is Colin and Dean. They got to know our family over our projects and what our family wanted. They helped us make a house our home. Their team was very professional and good to be around during all phases of construction for all members of my family, including our dog. They are family men and understand the importance of the process.
After the projects, we were happy in so many ways. First, what the quote is what you get with no surprise add-ons or hidden up-charges . Every family has a budget and they make sure that any changes were discussed and agreed upon in writing. All quotes are not the same, but in our experience the integrity in the K&V quote is unmatched. Secondly, they do not take a cookie-cutter approach but still hit their upfront estimates They are outstanding craftsman who have won many awards. Because of the craftsmanship they work with a very best suppliers in the local area. (Ones that have the same philosophy, quality and caring that one gets from K&V.) Finally, we get many compliments when friends, family and others come to our home. We always recommend K&V and tell them to talk to Colin and Dean, first.
Steve Elmore – Google Review
I was not looking forward to building a home for so many reasons (everyone has bad builder stories!), but Colin told me it would be fun – and he was right! K & V Homes has to be the best builder out there! I wouldn't ask for a single part of their process to be different. It was very clear from the beginning what our home would cost, what was included, what materials would be used, and roughly when it would be done. There was a timeline for how long each part of the build would take, and the work proceeded exactly as scheduled. It was clear when we needed to make specific decisions (flooring, fixtures, paint, etc), and working with the vendors K & V uses could not have been easier. Each time our bank released funds, I saw exactly what was being paid and how much it cost. There were no bad "surprises" along the way. The advice and experience Colin provided was excellent. Calls, texts, and emails were answered quickly. The house we have now is perfect for us, our family, our taste, and our location. Colin helped us get the house we wanted with the budget we had available. I would build again starting tomorrow – but only if we could do it with K & V Homes.
mamcwill – Google Review
Our experience with K&V Homes has been fantastic. They truly care about their work as can be seen in the quality of home that they build. Being from out of town, we were not able to be there as often as we had hoped during the building of our home. Dean assured us that he had everything well in hand, and he did. The process K&V uses stepped us through each portion of the build making it less stressful than we had anticipated. All our questions were answered in a professional, kind and understanding way. Providing excellent, quality subcontractors is also something K&V handles with pride and integrity. They were all easy to work with and their work reflects the pride and quality K&V put into our home. We are extremely happy with our new home and are proud to be a part of the K&V family.
We love our K & V home. They are great to work with and build you the quality/luxurious home you expect from K & V. Quick to answer questions and address any needs even from a very picky/needy homeowner. They will truly build you the home of your dreams and do their best to make it exactly as you want. We live in a development where many different builders have built homes. A lot of our neighbors have horror stories about their builders. We only have praise. You won't make a bad decision going with K & V.
Highly recommend K&V!!! These guys are the real deal!! We built with them 3 years ago and couldn't be happier!! The best quality you can find!! Dean led our build and was amazing to work with. Awesome communication and just an overall awesome experience.
We have several friends that used other builders around the same time we did and they had numbers of issues. Some other builders don't even want you on the job site while building, but I was out almost everyday on our build checking in on progress! I can't imagine using a builder that doesn't want you seeing the work they are doing.
Another huge factor to look at when selecting a builder is how will the communication/customer service be AFTER you move in for any questions/issues that you run into. Once again Dean was amazing. We didn't really have any issues but did have questions on things and Dean was always very responsive and continues to be today.
I can't recommend K&V enough. Again you may very well find a cheaper builder, but just know there is a reason for that!!
Todd Michalski – Google Review
K&V made the whole process easy from planning to the final walkthrough. It was always a friendly and fun atmosphere. They were also very patient and helpful when we had (many) changes we wanted to make, and had lots of excellent guidance along the way. The vendors they use are top-quality and stand behind their work. They are also great about answering follow-up questions after the build. We would definitely recommend K&V Homes for anyone looking to build from scratch whether it's your first time or not.
John Wilson – Google Review
Dean and Colin are solid and reputable home builders. Their communication throughout the course of our project was excellent, whether in person, via e-mail, or through text messages. They were very responsive to our input throughout the course of our project. The quality of their work is exemplary. They were always punctual for every meeting with us, and ensured our new home was completed right on schedule. We highly recommend K & V Homes.
Matthew Haindfeld – Google Review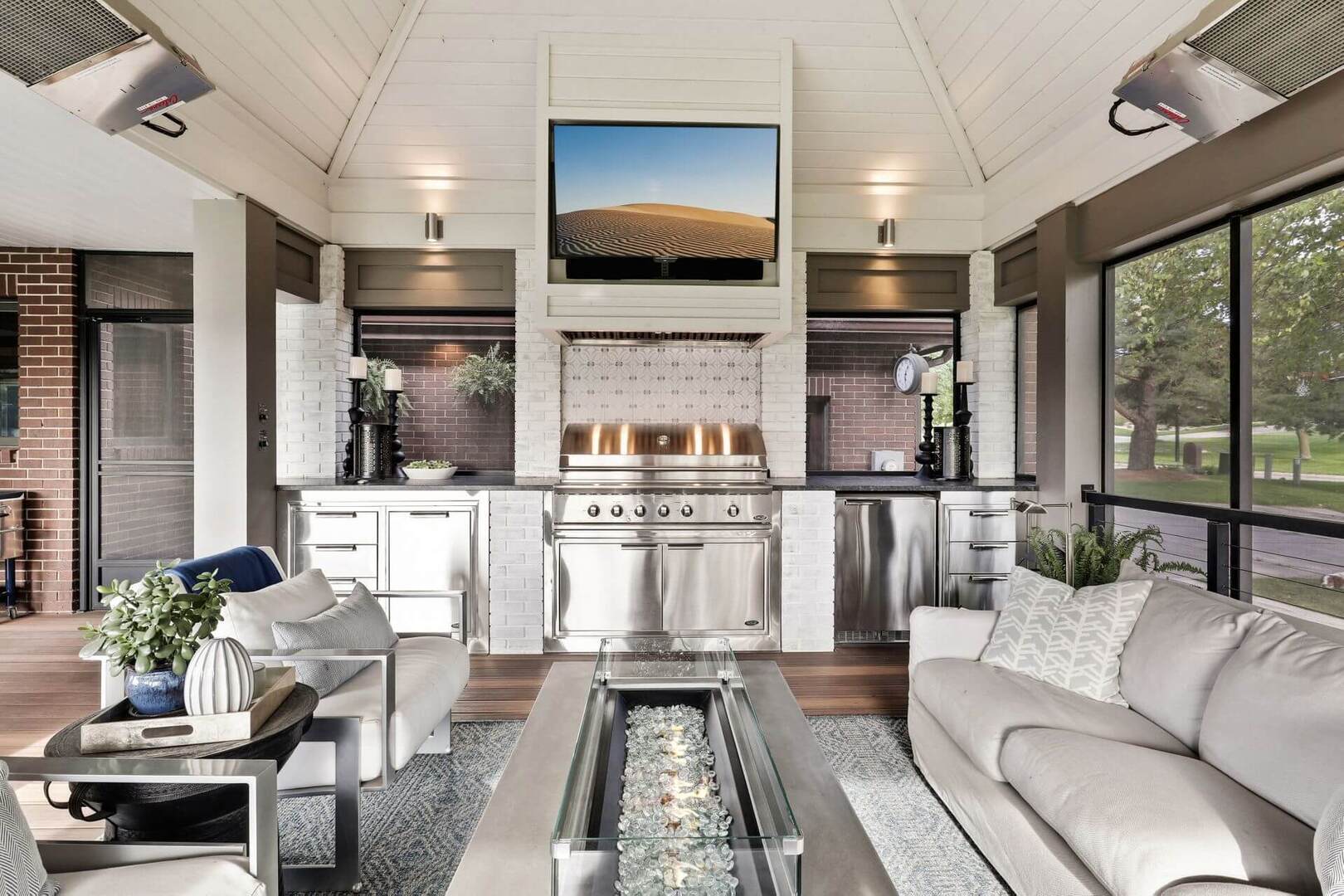 K&V Homes helped my family transform our old, seen-better-days deck into our dream covered patio. We rarely used the old deck space because of the heat and bugs. Now, we have a comfy, relaxing space that we love to use and enjoy.
I appreciate Colin and Dean's professionalism. Their industry knowledge and network of quality sub contractors combined with their integrity and timely communication kept our project on schedule and within budget. They also shared insight on new products and suppliers to get us the finished space we desired.
Thank you, K&V Homes!
Ellen Moore – Google Review
K and V Homes built the beautiful home we live in! The building process was a great experience for my husband and me. Colin was kind, patient, and kept us in the loop throughout the 7 month process. He brought new ideas to the table, in terms of design, and tracked down companies that would be able to provide the looks we were going for. The finished product is a reflection of quality craftsmanship and pride. We honestly could not be happier and highly recommend this company!
Nikki and Travis – Houzz Review
I can't say enough about how happy we were with K&V Homes! From their patience during the planning process (4 years is a long time!) to their attention to every detail throughout the plan-drawing stage, to the way in which they were hands-on for every aspect of construction and finishing. We couldn't be more pleased with the way our home turned out – a perfect realization of the dream we'd had for more than 10 years. We were very happy with the quality of work of every subcontractor and thankful for all of Colin's wisdom he so diplomatically shared when some of our ideas got a little too zany. We had a lot of laughs and fun along the way and felt like Colin really "got" our family. Our home is a perfect reflection of our taste and lifestyle and our first day here felt like coming home. Thank you!
Amber – Houzz Review
If you are looking to build a custom home, don't look any further. K&V homes is a top notch builder. Dean led our build in rural Adel. From the beginning through the end of the process there was always an open line of communication. They are upfront on all costs at the beginning of the build and there were no surprises throughout the process. We have been in our home for 1 1/2 years now and we have remained in contact with Dean. Both Dean and Colin are exceptional people that want to put out the highest quality product they can at a price that is fair for everyone. We have reccommended K&V many times to people and if we were to ever build again there would be no question that we would work with them.
Nathan Clark 
We had a wonderful building experience with K & V Homes and would highly recommend them. Honesty and integrity come to mind when I'm asked about K & V. We truly appreciate the expertise and quality they put into their homes, we couldn't be happier! 
Pam Hagenbucher