Building Process – Staking the Lot
Before you schedule the dig party, we need to 'Stake the Lot'
You've selected your lot, finalized your plan, and you're ready to dig!  Before we schedule the backhoe, we need to see how that beautiful home is going to lay out in this space.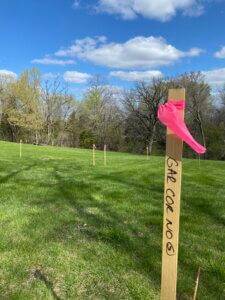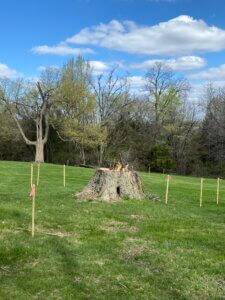 One of the first steps in actually building your custom home, is called staking.  An engineering company will visit your lot and lay out your home's footprint with wooden stakes called lathes.  The lathes will provide an outline of your home in the exact spot it will be built.  They will mark any intersecting walls, noting the size of rooms and garages and the angle of your home relative to the lot.
Staking allows you to measure the distance of your home with respect to city code requirements such as set backs and easements.  You'll be able to see how close you are to potential neighbors and street curbs. Measuring the location of your home in proximity to existing trees will help you determine which should stay and which ones might need to go. Some city codes may require your home to be a certain distance from out lots, water drainage, electrical boxes, etc.  Staking allows for those requirements to be double checked before your custom home build begins.
Using the lathes as guides, you can determine such things room size, window placement and views, the natural lighting your home will receive, where a potential pool might fit and much more.  Lathes will be labeled per the engineering company, but for the most part are easy to read and identify.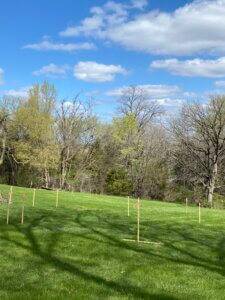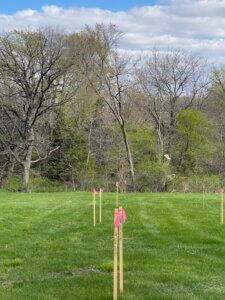 Once all points and measurements are confirmed, the next step of the process will begin.  Digging the foundation! For a full list of building steps, check out our 'Building Process' page. 
Questions on Home Building or Remodeling?