Site Visit: Grand Oakcrest Townhomes
January 19th, 2023
I headed to downtown Des Moines this afternoon to peep in on the Grand Oakcrest Townhomes project. Located on Grand Avenue and 40th Street, this new build features 7 custom, luxury townhomes, each unique in style and design.  This sought after neighborhood in the heart of downtown will fulfill a need for 'age in place' executive townhomes in the Des Moines area.  The concept was brought to us by Simonson & Associates Architects, who own the land and designed the luxury floor plans for each unit.  Each homeowner will bring their own designer to the project, to assist with interior selections and finish. Five of the units will face Grand Avenue and two will face 40th street.
Features of these townhomes include private front entry, elevators in each unit, patios, rooftop terraces and exterior maintenance including snow removal and lawn care. Each unit will be around 2,500 square feet with two stories, two bedrooms, 2 1/2 bathrooms and a two-car garage.
Today, we are in the framing stage.  Crews are building exterior and interior walls, stairs and getting ready to set the trusses for the roof.  You can start to see the delineation between homes as well as how each building will sit on the lot.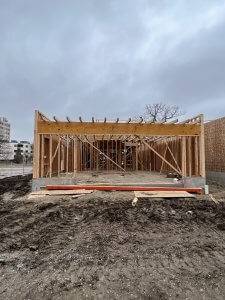 This project broke ground in late summer of 2022 and plans for move in dates are summer of 2023.  At the time of this article, there are two units still available.  If you're interested in one of the remaining townhomes, please visit the Grand Oakcrest website at https://www.grandoakcresttownhomes.com/
Check back for progress updates as we follow the build from here into the finishing stages.  We can't wait to see the custom details each homeowner will bring to this project.  
Questions on Home Building or Remodeling?