Uses for Built-In Custom Cabinetry
4 Places & Uses for Custom Built-In Cabinets
Custom cabinetry brings up images of entertainment centers, bookshelves, closet shelving, and other grandiose home features. K&V Homes homeowners have added incredible built-ins that frame fireplaces and televisions. We've created beautifully organized master closets full of shelving, drawers and shoe cubbies. K&V has even created secret doors hidden behind bookshelves that lead to a playroom or workout space.
But custom cabinetry can also improve the aesthetic of your kitchens and bathrooms and provide hidden conveniences you didn't know you needed. These are the four custom storage drawers our clients love and can't imagine living without.
Hidden Spice Racks
K&V Homes installed these hidden spice drawers, and we can't get over the convenience they bring to the kitchen and the cooking process. Spices and seasonings are within an arm's reach of the stove top and not scattered all over the counter or the cupboard. The soft-close drawers and sleek design make them a favorite kitchen add-on. The shelves are adjustable, so you're able to store different sizes of bottles and containers to suit your needs. Oils, vinegar bottles, and non-stick sprays would be a great addition to this smart storage solution as well!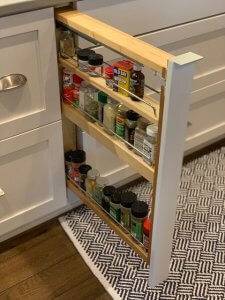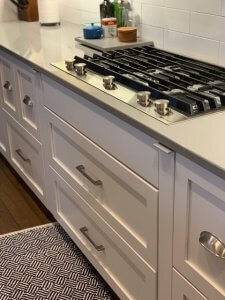 Utensil Drawer
Are cluttered countertops a pet peeve or yours? This utensil storage drawer is a game changer. Five stainless steel canisters hold all of your spoons, spatulas, tongs, pastry brushes, and more. Don't fight overstuffed drawers or cluttered pots of wooden spoons sitting on your counter. Save your countertop space for food prep or a fruit bowl and hide the kitchen tools out of sight. We chose to put this drawer right next to the stove top, which makes cooking so convenient. Your tools are at the ready when you need to saute, stir or whisk.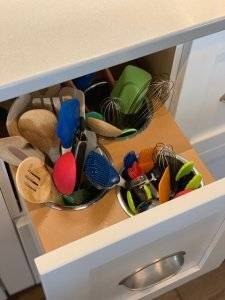 Laundry Room Drying Racks
Sometimes fully drying your clothes in the dryer can create wrinkles, but these slide-out drying platforms create an easy and simple solution to hang-dry your delicates for wrinkle-free wearing. Jeans, shorts, dresses, you name it; items get laid out and tucked under the counter for easy drying out of your way. The wide roll bars are fantastic for hand-washed items, sweaters that need to lie flat or even rugs and blankets that you don't want to dry. They don't leave creases and double the utility of your countertop, as they tuck just underneath and leave the countertop surface accessible.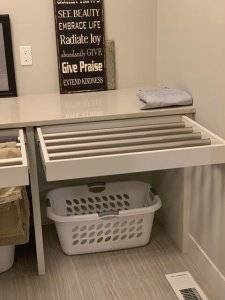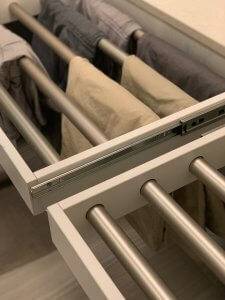 Bathroom Styling Tools Storage
Bathroom vanities are designed to make you feel like your 'glam squad' is on hand at all times, but who wants to look at the mess afterward? Cords, styling tools, and products are not part of a clean aesthetic and can make a master bath look like a royal mess. These storage drawers conceal your flat iron, curling iron, and hairdryer so when you're done with them, they slide away with ease. The mess is gone. The adjustable drawers below will store hairsprays, gels, and products as well. Stainless steel canisters are heat-protective and electrical can be run from adjacent outlets. The styling tools are easy to remove for traveling, cleaning or replacing.
Des Moines Area Custom Cabinetry Experts
These are just a few examples of custom cabinetry upgrades available for your home. What secret cabinets and drawers do you dream up for your home? We can help facilitate those ideas with the help of our specialized vendors. Whether the idea is built 'on the job' during the construction of your home or at the shop and placed when ready, we have many options for making your idea a reality. Reach out to K&V Homes to start your next custom cabinetry project, and soon enjoy the convenience and utility your addition can provide.
Questions on Home Building or Remodeling?